Cable assemblies
Within our range of cables and connectors, we offer high-quality, customised cable assemblies.
High-quality cables are essential for each antenna, representing potentially the 'weakest link in a chain' within the product. Use of a high-quality cable with an inferior antenna won't improve it, but an inferior cable can severely limit a good antenna with respect to attenuation, ripple, environmental function and service life.
For this reason REEL maintains control over the entire supply chain. Our cables, with a few exceptions, are made in our subsidiary in Romania. All tools, equipment and production materials are provided and delivered exclusively by us. Manufacturing is handled there by a constant employee team that is trained regularly by our production specialists. Needless to say, this subsidiary is ISO certified.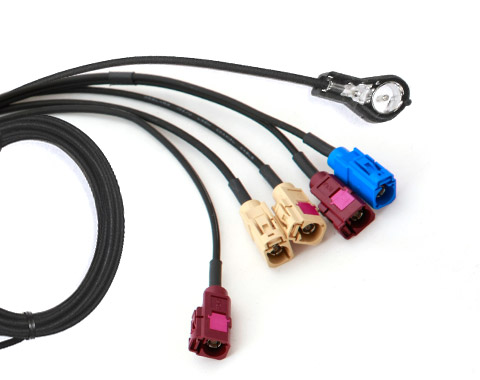 All the cables we use are flame-retardant according to ECE-R 118 (see certificate from TÜV Süd) and are principally made of LSZH – Low Smoke, Zero Halogen – (halogen-free plastics).
Currently, we offer the following cables:
single RG174, standard or super low loss
dual RG174, standard or super low loss
---
LSZH and PVC cables
Our cables used in LANs (local area networks), WANs (wide area networks) etc. meet the European LSZH specification. The IEC 60332-1 standard defines the burning behavior and fire propagation in halogen-free cable.
---
What is the difference between PVC and LSZH cables?
Physically considered, PVC and halogen-free cables are very different. PVC patch cables are very soft. Halogen-free patch cables on the other hand are more rigid, since they contain a flame retardant compound, and are more aesthetically pleasing.
A PVC cable (polyvinyl chloride) has a shell which releases toxic black smoke, hydrochloric acid and other toxic gases in the event of fire. Low Smoke, Zero Halogen (LSZH) cables consist of a flame retardant compound which does not generate toxic fumes when on fire.