Our antennas
Our antennas are only produced to order and can be supplied at short notice due to our unique modular system and high availability. For every product the necessary production documents are created in addition to a bill of materials – in this way we can guarantee that you can get this product years later in the same quality and design.
The cable assembly takes place in the SC REEL-Plantec SRL (Codlea, Romania), a production facility we founded in the year of 2006. There are only cables for our customers and antennas to international quality standard ISO 9001: 2015, with all materials provided by us or obtained directly from an authorised supplier in Romania. All cables produced by Friday reach our German location in Hüttenberg no later than Monday, so only 3 days later!
Our certificates relate to examinations of the design and the plate assembly. The product you order is 100% tested to strict specifications at shipping time.
Our Configurator is a very special service we offer. With its help, you can put together your product yourself.
---
Overview of our antenna systems
---
Applications for our antennas
Completely flame retardant antennas in housings 70 and 98 available conforming to ECE-R 118 for use in buses, passenger vehicles
Construction vehicles
Agricultural machinery
Leasing
Car rentals
Electronic logbooks
Parking ticket, ticket, cigarettes and other vending machine
Logistics
Truck
Toll systems
Energy supply and water management
Package services
Meter remote reading
Payment systems
Security transport
Fire brigade, ambulance, police
Public local and long-distance services
Building management
Container tracking
Control of road lighting
Medical technology
Airport equipment
wind turbines
Blood pressure monitors and defibrillators
M2M communication
MIMO LTE antennas for routing applications (new)
and many more...
If you get stuck while using the configurator again or can't find a desired product, we can help. Don't hesitate to contact us – we will help you to put together the appropriate product for you!
---
Accessories for our antennas
Although our antenna solutions meet all the necessary standards of quality, you'll never get a "standard" product from REEL. We produce antennas "Made in Germany" to meet individual requirements.
Using our modular system and special accessories, we will also find a solution to meet your requirements! Here are some examples, each of which was developed on request.
Assembly aid for nut M16 x 1.5, for all roofmount antennas, does not replace the torque wrench
Mounting plates for roofmount antenna, housing 70R
Angle mounting plate
Straight mounting plate
Slotted nut M16 x 1.5, stainless steel
PG screw connection
Single cable / 2-way cable / 3-way cable
conduit PA6 (already mounted as cable protection as requested)
NW 4.5 / NW 7.5 /8.5 NW / NW 10.0
adhesive pads and cleaning cloths (provided with all desk and window antennas, also available separately)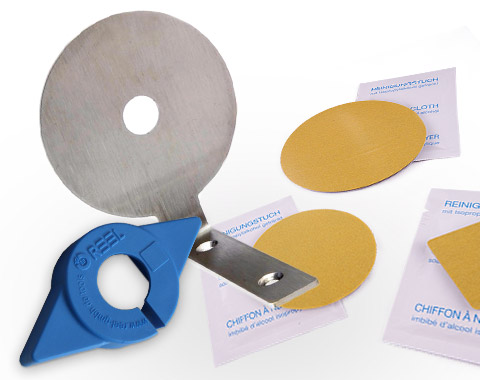 "The applications of our antennas are as varied as the number of customers looking for individual solutions."
Hans-Jörg Reinheimer,
Managing Director